December West™

Something old, something new (tm)

December West

by Todd Krieger

Vintage glass gem earrings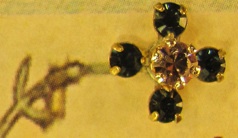 And featuring jewelry from recycled VCRs and computers

From discarded VCR and computer motors:

To brooches and pendants

Recycled pieces range from approximately 1.5 to 2 inches in diameter. 

Each piece is designed on top of a recycled component from discarded electronics.  Leveraging the original patterns, shapes, and textures of the recycled piece, I strive to provide additional dimensionality through enhancements such as a hidden mirror, refracting glass rhinestones, vintage filigrees, or the glowing sheen of pearls. 

Available at retail:

Massachusetts

Arlington: Luv and Other Gifts (luvboston.com)

Boston, Charles Street: Black Ink (www.blackinkboston.com)

Boston, Newbury Street: Lipstick Boutique (http://lipstickboston.wordpress.com/)

Brookline: Mint Julep (http://shopmintjulep.com/)

Central Square, Cambridge: MIT Museum Store (museum.mit.edu)

Harvard Square, Cambridge: Mint Julep (http://shopmintjulep.com/)

Harvard Square, Cambridge: Petali (www.petaliflowers.com)

Needham: Perennial Designs (www.pdesignsonline.com)

Oak Bluffs, Martha's Vineyard: Craftworks (www.craftworksgallery.com)

West Newton: Artitudes Gallery (www.artitudesgallery.com)

Virginia

Richmond: Quirk Gallery (www.quirkgallery.com)

 Recent Articles:

Massachusetts Designer Unveils Commemorative Earrings for the First Family's Martha's Vineyard Visit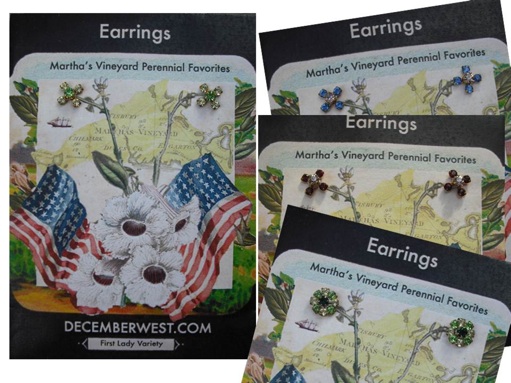 Needham Times: From Junk to Jewelry, Needham Artist Todd Krieger Finds Hidden Gems

Boston Phoenix: Guiltless Giving

Need more information – contact me at:

Wholesale and distribution inquiries welcomed

Copyright 2013 Todd Krieger, all rights reserved.

Brooch designs are registered with the United States Copyright Office.

Visit us at Gorse Mill Studios!

Please visit Craftworks in Oak Bluffs to see the First Lady commemorative earrings

(The article describing the earrings is below)

Massachusetts Designer Unveils Commemorative Earrings for the First Family's

Martha's Vineyard Visit

Just in time for the First Family's August, 2013 visit to Martha's Vineyard,

Celebrity Jewelry Designer Todd Krieger has created limited edition earring

sets to commemorate this special event. The earrings, which are available

exclusively at Craftworks in Oak Bluffs on Martha's Vineyard, reflect Mrs.

Obama's style: classy, with a bit of sparkle and were inspired by her love

of flowers. Each pair of hand crafted earrings was designed to capture the

beauty of a tiny bloom through colorful crystal rhinestones and are packaged

on a commemorative vintage-style patriotic seed packet. Using a bouquet of

hues, the earrings are available in a variety of floral colors inspired by

the soft petals of rose, jonquil, lilac, lily, hydrangea, and bluet flowers.

The seed packets, adorned with drawings of lisianthus flowers, were printed

with a mélange of other vintage imagery to match the occasion. Rather than

holding traditional seeds, the seed packets contain an assortment of

glistening glass gems that represent the seeds of hope that the First Family

has planted for growing dreams and smiles across the nation.

About the artist: Todd's designs follow the theme of `something old,

something new,' and in this case, he juxtaposes contemporary jewelry in a

classic style on top of vintage imagery. He has been designing jewelry for

more than 25 years. Todd's December West brand of jewelry also includes

brooches made from recycled materials and other unique designs which are

sold in galleries, boutiques, and even at the MIT Museum Store. He shares an

art studio with his wife, Karen, at Gorse Mill Studios in Needham, MA. When

he is not making jewelry, Todd also works full time as a corporate attorney

at an international software company and an adjunct professor at a law

school in Boston.

About Craftworks: Craftworks is a unique contemporary American craft gallery

located at 149 Circuit Avenue in the center of scenic Oak Bluffs on the

Island of Martha's Vineyard. All of the art in the gallery is made in

America by over four hundred juried artists both locally and from around the

country. Since 1991 Craftworks has brought an unusual and whimsical

collection of the best that American artists have to offer to its customers.

Judged "Best of the Vineyard" and recognized locally by its peers,

Craftworks has often been called "Our favorite Gallery" by many of the

thousands of visitors. Fodor's Travel called Craftworks Gallery "a must see"

when on the Vineyard.

Celebrate the First Family's historic visit with a trip to Craftworks to see

the commemorative earrings. For more information, contact